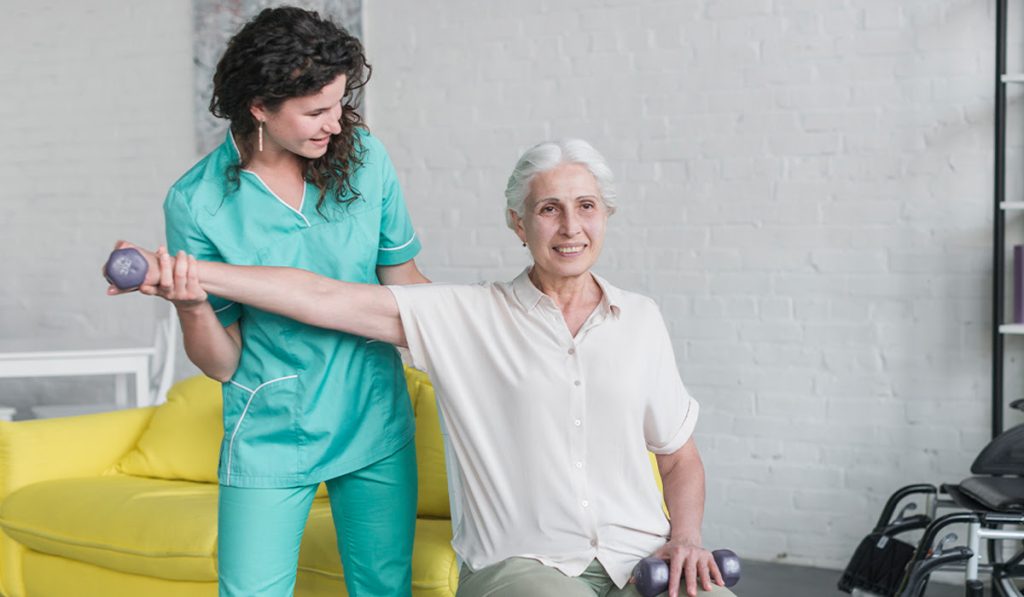 Defining a recovery plan for a stroke patient is never simple. Every patient suffers from different impairments depending on how their brain has been impacted by the stroke.
Therefore, understanding the rehabilitation process is essential for doctors to select the most suitable therapies for each patient they treat. So, what happens next?

There is only one goal during rehabilitation– to re-train the brain. Consisting of targeted exercises and actions, rehabilitation helps rebuild synapse connections within the brain and encourages neuroplasticity to take place.
As new nerve connections are formed, it helps the damaged areas of the brain reconnect nerve signals to parts of the body and allows patients to relearn basic daily functions.

There is a need for various types of rehabilitation and therapists to assist each patient's ailments and needs. This is reflected by Prof. Julie Bernhardt, Chair Executive of the International Stroke Recovery and Rehabilitation Alliance (ISRRA) and Co-Head Stroke Theme at The Florey Institute of Neuroscience and Mental Health in Melbourne, Australia, who says that therapists "specifically work out how to treat these problems".
Learn more about different types of Stroke Rehabilitation with Noemie and Professor Julie Bernhardt
Professor Julie Bernhardt
 Co-Head Stroke Theme,
The Florey Institute of Neuroscience and Mental Health,
Melbourne, Australia.
Chair executive, International Stroke Recovery and Rehabilitation Alliance (ISRRA)
There are various forms of rehabilitation that a patient may undergo. This includes:
Physical Therapy:

 This is where physical therapists help with all forms of basic movements involving your limbs.
Speech Therapy: This is where speech therapists train patients how to speak and overcome conditions like aphasia (loss of language use).
Occupational Therapy

:

 This is carried out by specialists who aid patients relearn fine motor skills for basic activities such as eating and writing alongside avoiding issues such as muscle spasticity.
These forms of therapy are undertaken over months and years to help patients regain normality in their daily lives.
Recently, therapists have undertaken newer methods to help improve rehabilitation. Some of these emerging types include:
Music Therapy: Using songs and music to improve a patient's long-term memory and improve speech patterns.
Video Games: Video games are being used to help patients improve fine motor skills and learn basic hand-eye coordination patterns.
Mirror Therapy: This tricks the brain into increasing neuroplasticity by performing a task with a functioning limb and repeating it enough times for nerves on the other side of the brain to start reconnecting based on what it sees.
New technologies such as Virtual Reality and Robots are also useful for rehabilitation. Trying innovative methods may improve the rehabilitation process and a patient's long-term prognosis.

For every patient, it is important to thoroughly research any rehabilitation plan and understand what works best for the patient.
Speak with the treating physician is essential to understand the recovery plan and what the rehabilitation process will look like. Only then, will the patient begin the road to recovery.
Get on the road to rehabilitation!
Follow us on social media!
References:
1.  Flint Rehab. (2022).
2.  Stroke Rehabilitation with Professor Julie Bernhardt and Noemie video by Moleac Pte Ltd. (2022).
3.  Understanding stroke-A guide for stroke survivors and their families book by Moleac Pte Ltd. (2014).
Contact: [email protected]
This document does not constitute the practice of medical consultation nor medical advice. Always seek the advice of your treating physician and/or specialist.