Moleac awarded prize from Creative France – recognising the success of French entrepreneurs in Singapore
"Entrepreneur" is a French invention for risk takers committed to innovate, and Moleac is a complete illustration of successful entrepreneurial biopharmaceutical company in Singapore.
A quote from his Excellency, Ambassador Benjamin Dubertret, French Ambassador in Singapore
"The "Creative Next" contest aims at showcasing French ingenuity and identifying inspirational French entrepreneurs or SMEs that have demonstrated creativity and innovation in their business. Thanks to its innovative therapeutic solutions to neurological diseases, finalist company Moleac perfectly embodies the essence of French "creativité": an exceptional ability to innovate paired with scientific excellence and talent."
In 2016, Moleac celebrated the 10 years' anniversary of its flagship product, NeuroAiD.
NeuroAiD was initially launched in Singapore in 2006 and rapidly expended to over 35 countries worldwide. This innovative product fulfills a major therapeutic gap for stroke victims in their journey to recover their functional independence. Today, NeuroAiD is in the running to become Singapore's first home-grown drug.
The idea was born in France and initially funded from Europe. We saw the opportunity to bridge the gap between Traditional Chinese Medicine (TCM) and Western medicine, two paths which usually don't cross at all. The decision to locate the company in Singapore was based on the understanding of both Eastern and Western medicine here in Singapore, which is essential for NeuroAiD's development. We also wanted to ensure our research and data could stand the scrutiny of clinicians internationally. In the past 10 years, NeuroAiD has undergone clinical trials in Singapore and internationally, demonstrating its efficacy in boosting recovery of neurological functions after a stroke. NeuroAiD has reached 20,000 patients last year and we are currently working towards obtaining full-fledged drug approval in the United States and Europe.
We are honored to receive this award from Creative France which represents wider recognition of our commitment to innovate and bring therapeutic solutions to thousands of stroke victims worldwide.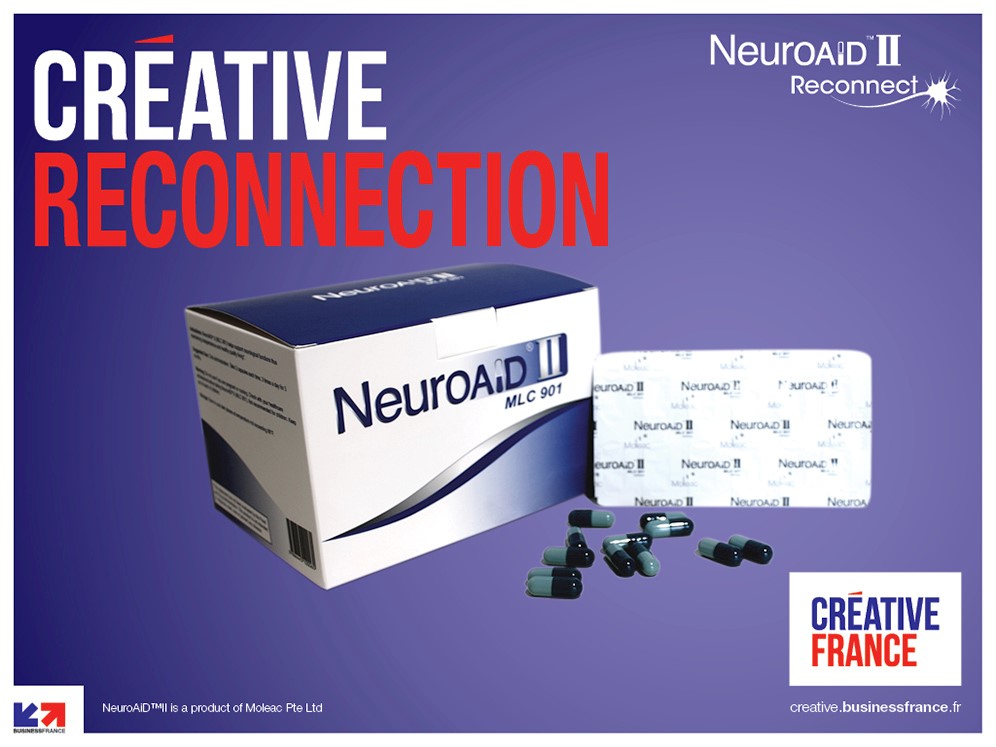 NeuroAiD (either MLC 601 or MLC 901), as first known as a Traditional Chinese Medicine, is a natural product combining several active ingredients including nine herbal extracts in the form of capsules. NeuroAiD properties have been studied extensively in post stroke recovery and the research is widely published. Since its first commercialization in 2006, NeuroAiD™ has shown a rapid and stable growth internationally, and is available today in numerous countries of several regions (South East Asia, Europe, Middle East, and Africa). Pharmacology research has established the neuroprotective and neurorestorative activities of NeuroAiD providing possible mechanisms for neurological recovery in post-stroke survivors.
Moleac is a pharmaceutical company headquartered in Singapore and focused on developing and commercializing treatment for the patients suffering a loss of brain functions after brain injuries or neurodegenerative diseases. Moleac was founded by French entrepreneurs and scientists in 2002 and is headquartered in Singapore.