Moleac holds two educational symposia on the management of Traumatic Brain Injury
March 2019
Moleac organized two symposia in Dubai and Bangkok on new approaches for Traumatic Brain Injury (TBI) recovery.
In these symposia, the speakers emphasized on the global burden of TBI, the lack of treatment options for patients, and the scientific and clinical background supporting the role of NeuroAiD to help patients who have suffered from a TBI and other brain injuries.
Clinicians from Southeast Asia, Europe, and Middle-East attended the sessions presented by International faculties: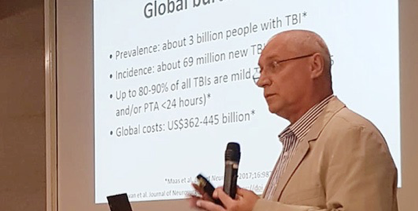 Professor Valery Feigin (MD, MSc, PhD, FAAN), director from the AUT National Institute for Stroke and Applied Neuroscience from New Zealand, presented the BRAINS Study assessing the safety and efficacy of NeuroAiD in TBI patients.
Professor Mihai Berteanu (MD, PhD), senior consultant from Elias University Hospital, Romania, discussed about the consistency of NeuroAiD's neurorestorative properties across brain injuries.
Associate Professor Ihsan K. Al-Shimmery from Hawler Medical University in Iraq, presented the effect of combining rehabilitation with NeuroAiD.
Lee Khean Hin from Gleneagles Hospital Singapore, shared his clinical experience of using NeuroAiD in several types of brain injuries.
Associate Professor Ramesh Kumar (MD, MRCS, FRCS) from the National University of Malaysia (UKM), one of the primary investigators for SATURN and NeST registry in Malaysia, presented the preliminary findings for these two studies.
The BRAINS Study
The BRAINS Study was conducted in New Zealand and published in the European Journal of Neurology in April 2018. It investigated the clinical relevance of NeuroAiD for mild-to-moderate TBI patients who suffered from persistent cognitive deficits. Complex Attention (ability to multi-task) and Executive Functioning (planning and decision making) are the most commonly affected cognitive domains following a TBI. Both cognitive domains were significantly improved after a 6-month treatment of NeuroAiD versus placebo and over the 9-month follow-up period, with a good safety profile.
In addition to the BRAINS study, ongoing research on the potential role of NeuroAiD in Spinal Cord Injury (SCI) and case reports of Intra Cranial Hemorrhage (ICH) and TBI confirm the safety profile of NeuroAiD and its promising role in improving recovery after brain injuries.
NeuroAiD (either MLC 601 or MLC 901), as first known as a Traditional Chinese Medicine, is a natural product combining several active ingredients including nine herbal extracts in the form of capsules. NeuroAiD properties have been studied extensively in post stroke recovery and the research is widely published. Since its first commercialization in 2006, NeuroAiD™ has shown a rapid and stable growth internationally, and is available today in numerous countries of several regions (South East Asia, Europe, Middle East, and Africa). Pharmacology research has established the neuroprotective and neurorestorative activities of NeuroAiD providing possible mechanisms for neurological recovery in post-stroke survivors.
Moleac is a pharmaceutical company headquartered in Singapore and focused on developing and commercializing treatment for the patients suffering a loss of brain functions after brain injuries or neurodegenerative diseases. Moleac was founded by French entrepreneurs and scientists in 2002 and is headquartered in Singapore.