Chinese Herbal Medicine May Have Delayed Benefit in Stroke
VIENNA, Austria — Long-term follow-up of a trial investigating a Chinese herbal supplement in patients with stroke suggests there may be some benefit after 6 to 18 months.
The Chinese Medicine NeuroAiD Efficacy on Stroke Recovery (CHIMES) study was an international randomized double-blind placebocontrolled trial of 3 months of treatment with the herbal supplement NeuroAiD (Moleac) started within 72 hours of symptom onset in 1100 patients with ischemic stroke.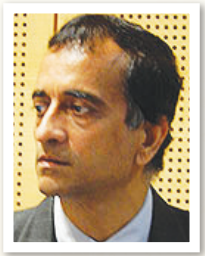 The primary results, which were reported in 2013, showed a trend toward better functional outcomes in the treated group at 3 months, but this did not reach statistical significance.
Longer-term follow-up in the CHIMES-E (Extension) study, which reported outcomes up to 2 years in 880 patients, was reported by Narayanaswamy Venketasubramanian, MD, from the Raffles Neuroscience Centre, Singapore, here at the 24th European Stroke Conference (ESC).
"While the benefits of a 3-month treatment with NeuroAiD did not reach statistical significance for the primary endpoint at 2 years, the odds of functional independence defined as [modified Rankin Scale score] ≤ 1 was significantly increased at 6 months and persisted up to 18 months after a stroke," he concluded.
The results were also published online April 22 in Cerebrovascular Diseases.
The CHIMES-E study population had an overall mean age of 61.8 years, with 318 (36%) women, and a mean baseline National Institutes of Health Stroke Scale score of 8.6. The treatment and placebo groups were balanced in baseline characteristics at the time of inclusion in CHIMES, and they were similar in terms of subsequent rehabilitation and intake of any Chinese herbal medicines during the study, the researchers state.
The primary endpoint of the extended follow-up study was the shift analysis on the modified Rankin Scale at 2 years. This was not significant but showed a trend toward benefit with NeuroAiD (odds ratio, 1.08; 95% confidence interval, 0.85 – 1.37; P = .543).
However, when analyzed according to patients showing a good functional outcome (modified Rankin Scale, 0 – 1), treatment was associated with significant benefit at the 6-, 12-, and 18-month points.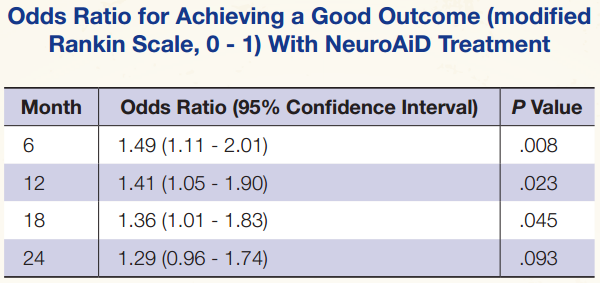 Dr Venketasubramanian noted that the Barthel index showed similar trends toward improvements in the treated group in the longterm follow-up. "So our results are consistent on more than one score."
"It appears that a 3-month course of treatment may not show benefits immediately," he commented to Medscape Medical News. "Our results suggest that we may have to wait a while to see the effects, and maybe treatment should be maintained longer term, to maximize effects."
He added: "When the brain is injured it takes time to calm down, so differences in healing may take time to show up. The herbal extracts have shown neuroprotection and neuro-restoration properties in animal models. As the results appear to be delayed, this may suggest more restoration is taking place."
The researchers are now in discussions about conducting a second trial with a longer period of therapy and a longer follow-up.
NeuroAiD is a combination of nine Chinese herbal extracts and nine animal components. A new formulation has recently been developed without the animal components, Dr Venketasubramanian said.
"We are hoping that the new formulation, which is manufactured in accordance with good clinical practice, will mean fewer tablets and a less expensive production process. It will also have the advantage of not needing the regulation necessary for animal products."
Marketing information produced by Moleac claims that the herbal extracts contained in NeuroAiD have been shown to "stimulate brain self repair processes for stroke recovery." This includes "increasing the number of mature neuronal cells" in mice models and "increasing neurite outgrowth and synaptogenesis" in neuronal cell cultures. It adds that the product reduced infarct volume in a rodent stroke model, increased cell survival, and "activates ATP-dependent K+ channels contributing to neuroprotection and ischemic preconditioning."
The product is sold as an herbal supplement and is not regulated as a medicine at present.
The CHIMES-E study was supported by the CHIMES Society, a nonprofit organization, and grants were received by CLHC from the National Medical Research Council of Singapore. The authors received funding for the trial and accommodation and transportation support for meetings from the CHIMES Society. Moleac (Singapore) provided grants to the CHIMES Society, of which the society had sole discretion on use. One coauthor has minor shares in E*Chimes, the Philippine distributor of NeuroAiD. Other than CHIMES funding for the trial, the other authors and investigators have disclosed no relevant financial relationships.
Cerebrovasc Dis. 2015;39:309-318. Full text
24th European Stroke Conference (ESC). Presented May 14, 2015.